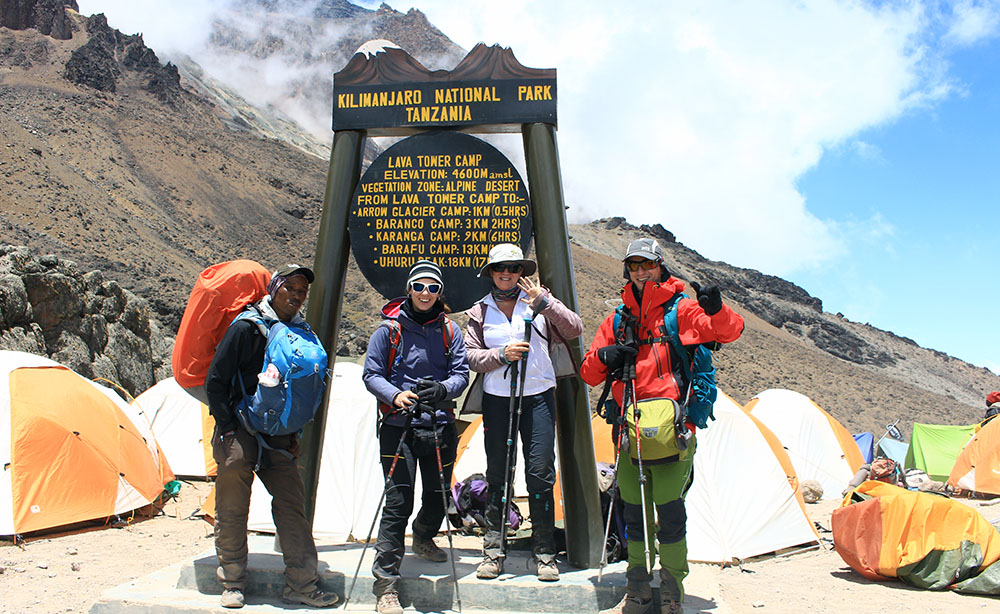 Which route should I use for My Kilimanjaro climb?
Marangu is often considered to be the easiest route on Mount Kilimanjaro – but don't be fooled, as no route on Kilimanjaro is
easy.
It is given this rating as it has a gradual, less steep ascent climb, which means that you also as a result cover greater distances each day. It is also one of the shortest routes. Accommodation is in shared dormitory style mountain huts. As a result of its shorter duration, accommodation and ascent profile, it is a much busier path.
The downside to Marangu is that it also offers no chance of acclimatizing by the principle of climb high, sleep low, It is also, because of its "easier route" status, often selected by people who are less fit and consider it to be the easy option to summit. As a result, the number of people who reach the summit, is lower than on most of the other routes.
To make a success of Marangu route, it is important to add on a day's acclimatization trek from Horombo Huts. It will increase your chances of success. It is also known as the "Coca Cola Route. Ascent climb and descent is via the same way making variation of scenery, limited.
Rongai route is also known as the Loitokok or the old Outward Bound Route. It takes off from near the Kenyan border and heads up in a northerly direction. The ascent profile of Rongai is is similar to the Marangu and considered to the the second easiest route. Like Marangu, it is a slow and gradual climb up to Kibo. However, like Marangu it also does not offer any nights for "climb high, sleep low", so adding a day is highly beneficial to increase your chances of success.
One of the benefits of the route is that it is a very quiet less populated route. Accommodation is in tents and descent is down the Marangu Route.
Machame route, also known as the "Whisky route", heads off in a south westerly direction before turning in an easterly direction, and heading back down the south east side down Mweka. It is one of the steeper but more scenic routes up the mountain. The route takes six days to complete, although seven days is recommended with a nights stop at Karanga Camp. The descent is down Mweka route. Accommodation on the route is in huts. It also has, apart from unsurpassed scenery, the added benefit of a night of "climb high and sleep low" at Baranco Camp. Accommodation is in tents.
Shira Route starts on the far western side of the mountain and as such requires a lengthy transfer of around 4 hours to get to the Londorossi Park Gate at 2200m. A 4×4 ride then takes you up to the Simba River where the trail starts, making your first nights stop at 3500m. The trek also starts at a higher altitude meaning that one gains altitude very quickly and can led to problems. The route then heads across the Shira plateau, joining up with the Lemosho and Machame near Lava Tower. The rest of the route is the same as for the Machame Route. Accommodation is in tents.
Lemosho Route also starts on the far western side of the mountain and as such requires a lengthy transfer of around 4 hours to get to the Park Gate. It is also a much longer approach with a longer period of time being spent in the rain forest and also a very tough days trek to get up to Shira Camp I. For this reason, it is best down in 7-8 days. It is also a quieter route for the first few days. Like Shira, it then joins up with Machame near Lava Tower and follows the same route to summit, returning down Mweka Route. Accommodation is in tents.
Umbwe Route is one of the toughest and steepest routes up to Kibo and should not be undertaken by anyone who is not fit and accustomed to steep trekking. It also has some steep drop offs' so best avoided for people who are afraid of heights. The route heads directly upward in a northerly direction to Baranco Wall where it joins in with Shira, Lemosho and Machame. Because of its steep ascent profile, it has a much lower success rate with little acclimatization chances.
Northern Circuit route is the newest route to open and has already been given such names as the 360 route and Grand Traver. It starts out from Morum Barrier gate after a 4 hour road transfer and then further up by car to near Shira I. As a result, the altitude gain as with Shira is very quick. The trek can be done in 7 days but best done in 8. Of all the routes, it offers fantastic acclimatization as the altitude gain each day is very low, as you climb in an easterly direction to Shira II and then west around to Moir Camp. You then trek on the far side and seldom used route around the back of the Kibo massif until joining up with the Rongai route at Third Caves. Summit climb is best attempted from Kibo huts. Descent is then down the Mweka Route.
.
Sorry, the comment form is closed at this time.