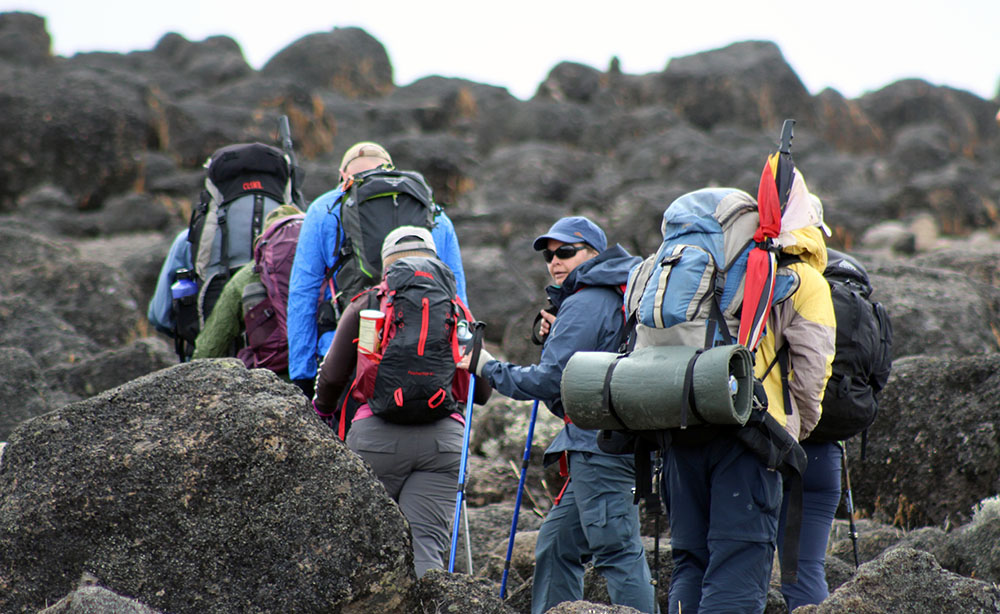 Final Check list for Kilimanjaro Climb
This list consists of items that are necessary on a Kilimanjaro climbing, climbs to high altitude . These items are not optional , they are essential for your comfort and safety. You may rent items on the list from us. We have all in Kilimanjaro climbing list, used but in good condition for Kilimanjaro climbing. You may contact us with any questions about mountaineering equipment.
<strong>Basic Equipment</strong>
Backpack with an internal or external frame. Find a pack that fits you well and that can hold all your gear. 2500 – 3000 cubic inches is a good minimum size. Make sure is comfortable
Sleeping bag. Down or synthetic fill, Rated to at least 15 degrees Fahrenheit Sleeping pad.
Duffer bags. A large one for your mountaineering gear and clothes and a smaller one for your city clothes. Please keep combined weight to approx 100 1bs. It is essential to keep gear separated for storage purposes.Luggage locks. For locking your duffer bags.
Headlamp; be sure to bring extra batteries and extra light bulbs. Some clients have reported their batteries being confiscated from hand luggage while traveling through Kenya, so be sure to check extra batteries if you have more than four.
Extra bag to put your staff which your not not need in mountain.
Sun Protection
Warm hat
Sun hut a wide one is the best, try to get that cover back your neck and ears against the sun bun
Balaclava for neck and face covering Sun hat with good brims are essential for protection from the equatorial sun.
Headlamp; be sure to bring extra batteries and extra light bulbs. Some clients have reported their batteries being confiscated from hand luggage while traveling through Kenya, so be sure to check extra batteries if you have more than four.
Sunglasses – Dark, glacier glasses with side shields. Choose glasses with full UV and IR blockage.
Lip Balm with SPF rating of I5 or more.
Clothing – Upper Body
T-Shirts
Two T-shirts. Synthetic is best. Long sleeve underwear top. Light or medium synthetic. Absolutely no cotton.
Light weight long sleeved shirt
Heavyweight Jacket
Sports bra
Rain parka or Poncho
Gloves or mittens
Down Jacket
Clothing – Lower Body
Quick dry hiking shorts. Good for hiking at lower elevations on the mountain.
Long underwear bottoms. Wool or synthetic. Light or medium weight. Wool, bunting or pile pants. One pair that fit loosely and are comfortable Rain pants.
Waterproof nylon Wind pants. Tights. Lycra type are best. These are comfortable while hiking to prevent needle stings, or to provide warmth on cool misty days under a pair of pile pants.
Undergarments enough for proposed days.
On Your Feet
Socks. Synthetic or wool, at least 3 pairs.
Liners Socks if you wear them. Absolutely no cotton. You will wear a thin pair, rinse the thin pair at night and peg the in pack to dry on the next day.
Hiking boots. High–top heavy duty hiking boots with a good sole for traction. These should be well worn-in by trip departure.Make sure its not a plastic and must high enough to support your ankle.
Please wear your boot which you're going to use on Kilimanjaro in case luggage goes missing on plane.
Gaiters must be knee length with Velcro closures Lightweight shoes, sandals, or other shoes for crossing rivers and for base camp.
Trekking trousers not cotton or jeans. Fleece lined trousers are good choice.
Trekking poles very useful for descent.
For Drinking
Water bottle. Four bottles, one liter size.
Water treatment tablets. Not essential, but good to have on hand. (We provide tablets as part of the trip service).
Water flavoring. (The water treatment tablets tend to leave a small aftertaste, so having your favorite drink powder can help to mask this. Also not essential).
For Personal Hygiene Items
Bring enough toiletries for the entire trip. Keep it simple and light, but bring enough for your needs.
Biodegradable soap.
Hand sanitizes
Sunscreen. Minimum of SPF15 First Aid.
A complete personal first–aid kit containing any drugs prescribed by your doctor (see the "letter to your physician for high altitude meds, antibiotic and the like") Insure Antiseptic cream, plasters, knee support, moleskin or compeed, Ibuprofen, aspirin, paracetamol, imoudim, rehydrating power, through sweet are packed.
Towel for washing in camp. (A small one.) You can also use a bandana.
Insect repellent containing DEEP
Moist towelettes or baby wipes for additional hygiene.
Pocket Knife. Simple Swiss Army type with scissors.
Trail Munchies. Although plenty of snack food is provided, trekkers like to have a taste of home in their packs. It is also advisable to bring at least three energy bars to assist you on summit day.
Hot drink mixes. We provide plenty of coffee, cocoa and tea, but non caffeinated drinks are not readily available here. Bring a supply of your favorite herbal teas.
Electrolytes, powder and tablets (optional)
Snacks, light weight, high calorie, high energy ( Optional)
Ear plugs. To block out snoring and hut noise and ensure peaceful rest.
Plastic bag for protecting wet on gear as w ell one extra for garbage.
Paper Work
Visa ( Visa also available Tanzania on arrival for countries who get visa on arrival)
Immunization Paper
Trip Itineraries and receipts
Insurance document
Others
Toiletries
Prescriptions
Camera with Extra batteries (option)and memory card. A UV filter is needed for SLRs.
Wristwatch and alarm
Cell phones and space batteries , check also with your network provider for coverage and local network. You can cat signal across a lot of point in mount and as well as under stood most point are still week network.
Sorry, the comment form is closed at this time.